TAMPA HEATING FURNACE REPAIR

With just one call, our expert technicians will be there for you. Our repair service is done efficiently and properly the first time, Saving you time and money.

Get a free quote
RELIABLE FURNACE REPAIR AND MAINTENANCE
IN TAMPA AND SURROUNDING AREAS

Being in Tampa, we get to enjoy most of our days in warmth. That's why when the temperature starts to drop, we notice it immediately. If you want to keep your home or business comfortable the whole year-round, you need a good functional furnace. Call us for a fast and reliable heating furnace repair in Tampa Bay.

At Comfort Air Heating and Cooling, we offer reliable furnace repair and maintenance. This is to make sure that your furnace is working when you need it most. We have been servicing Tampa and the surrounding areas for more than 25 years. You can rely on our technicians to be professional, skilled, and experienced. Whether it's repairing or maintaining your furnace, you can trust us to do it right the first time.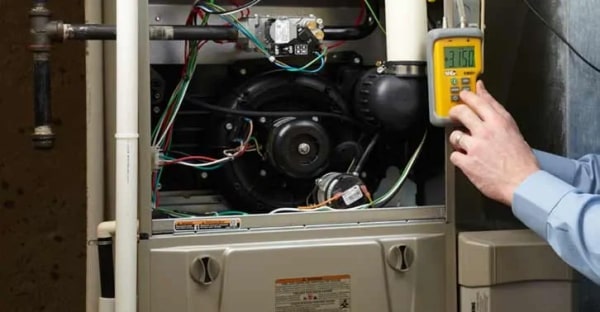 FOR ANY FURNACE SERVICE NEEDS, COMFORT AIR IS JUST ONE CALL AWAY!

FURNACE REPAIR

Winter in Tampa can still get chilly and uncomfortable. If your furnace suddenly breaks down during this season, you wouldn't want to wait too long in the cold. That's why at Comfort Air Heating and Cooling, we do our services efficiently and quickly. We understand that you want your family and team to stay comfortable even though there's a nip in the air.

Regardless of what type or model of furnace you have, our technicians have the knowledge and skills to fix it. We also offer repairs. So whether it's the weekend, holiday, night, or day, our team will be there to bring warmth back into your home or business. Your repair will be fast, efficient, and accurate.
COMMON REASONS TO CALL FOR A FURNACE REPAIR
Furnace Not Functioning
If your furnace is not working, the first thing you should do is to check the thermostat. However, if your thermostat is working, call our trusted technicians to determine the cause of the malfunction and repair it quickly.
Foul Odors
Foul odors, like the smell of rotten eggs or sulfur, coming from your furnace could mean that there's a gas leak. Turn off the gas valve and furnace and immediately call our emergency repair hotline.
Loud Noises
Strange, loud noises coming from your furnace could mean that bolts or parts of your heating system have broken down. If you don't get this fixed or replaced quickly, you might end up having to buy a new furnace.
Furnace Blowing Cold Air
This problem usually happens when the heat exchanger overheats due to clogged air filters. So if your heater starts acting like an air conditioner, call us immediately to bring the warmth and comfort back.
Water Leaks
Furnaces usually leak when the condensate line gets blocked. If not repaired soon, it might get to the other parts and cause more damage. Have us drain the water and fix the leaks before they worsen.
FURNACE MAINTENANCE

The best way to make sure that you're comfortable the whole winter season is to have an annual maintenance scheduled. You wouldn't want winter to come and realize too late that your furnace is not working properly. Regular maintenance is a great habit if you want to save money and have better furnace performance.

Still doubting? Here are some other reasons why it's important to schedule furnace maintenance before winter starts.
Regular maintenance done by professionals will make your furnace work efficiently. This means that energy consumption would be lower, and thus, the energy bill is reduced as well.
During routine maintenance, technicians can detect and fix problems before they become bigger and more expensive.
Cleaning your filters to improve air flow is included in a furnace maintenance service. Not only will this lessen the strain on your furnace, but it will also help in keeping indoor air clean.
An annual maintenance can help increase the lifespan of your furnace by minimizing damages and increasing its efficiency.
Most furnace manufacturers would void warranties if annual maintenance is not performed. You wouldn't want to waste money by voiding the warranty, right?

FOR ANY FURNACE SERVICE YOU NEED,
OUR EXPERTS AT COMFORT AIR ARE READY TO HELP!

Comfort Air Heating and Cooling consists of expert technicians who are always ready to provide you with quality and reliable furnace service. With our repair service and financing offers, you'll know that we are client-focused. You can expect us to treat your home or business with respect and leave you satisfied with our service.